<
Details
Go Back
Fishers of Men event number two is a wrap!!! The event began Friday night as anglers gathered at 3C Cowboy Fellowship in Salado TX, we were so very blessed to be welcomed by all the fine folks at 3C, we certainly appreciate their hospitality each time we visit. The Chuck Wagon Cook team served up hamburger steak, potatoes, gravy and green beans for all of those in attendance. A wonderful message about water and the significance of water in certain stories found in the Bible was delivered by Army Chaplain Nathan Peterson. It was a great message and the response from those listening certainly confirmed it.
Saturday morning anglers braved the 40 degree temps and launched their boats in anticipation for the battle on Lake Stillhouse Hollow. With a lake that commonly produces huge sacks of fish, coupled with overcast skies and cool temps, there was really no telling how the day would unfold. At the end of the day we all celebrated together as the husband / wife team of Earl and Leisha Loggains were crowned winners of the event with a limit of fish weighing in at 20.18lbs. I believe the weight even shocked them, Earl was thinking he had a limit of about 15lbs, they were both happy to see it settle at 20.18lbs. Christopher Noel and Shawn Fischer brought a sack in weighing 19.39lbs which secured their rights to second place. David Kipp and Thomas Wells Jr. grabbed third place with a limit weighing 19.01lbs. The Team of Justin Williams and Colton Hill held fourth place honors with 17.94lbs and won Big Bass for the event with a good one weighing 6.71lbs. The team of Jimmy Bennett and David Polk had enough to take fifth place, they reported to the scaled with a limit of fish settling in at 13.97lbs.
A great time was had by all, Mr. John Baran sent us all on our way with a prayer thanking God for safety, and thanking him for the ability to assemble, fish and fellowship.
Fishers of Men would like to thank all our National Sponsors, listed alphabetically; Abu Garcia, BassCat Boats, Berkley, Frogg Toggs, Jacobs Glass, Mercury, Power-Pole, Realtree Fishing, Spiderwire DuraBraid, T&H Marine, and X2 Power.
Texas Central would like to thank our wonderful divisional sponsors: Bingham Marine Texas, Custom Truck and Wheel, Tyler Wrap Company, Forage Lures, Cornerstone Baits, Coda Lures, Vicious Fishing, Ardent Outdoors, Be One Promotions, Fish Life Fish Care Products, Pro Tec Products. We would also like to thank Nikki Washburn for jumping in and conducting boat check in, Kylie Hammessley for taking photos and Leisha Loggains for running weigh bags back and forth. Thank you to Melissa Eller for helping with spouse gifts and running the computer, and everyone else that jumps in and helps in the whole process, we certainly could not do it without you all...
Roster Information:



Stillhouse Hollow - 02/25/23


Place
Team
Members
# Fish
Big Fish
Gross
Penalty
Net Wt
Points
1
29556
Earl Loggains
Leisha Loggains
5
5.58
20.18
0
20.18
200

---

2
30065
Christopher Noel
Shawn Fischer
5
6.14
19.39
0
19.39
199

---

3
30024
David Kipp
Thomas Wells JR
5
5.47
19.01
0
19.01
148

---

4
29597
Williams Justin
Colton Hill
5
6.71
17.94
0
17.94
147

---

5
29586
Jimmy Bennett
David Polk
5
0
13.79
0
13.79
196

---

6
29631
Chester Jenke
Tyler Jenke
5
0
13.17
0
13.17
195

---

7
29712
Hal Gatewood
Andy Whitehead
5
0
13.01
0
13.01
194

---

8
29572
Jayson Kisselburg
Lake Kisselburg
5
0
11.78
0
11.78
193

---

9
29647
Bryan Cotter
Garrett Stone
5
0
11.53
0
11.53
192

---

10
29560
Gary Johnson
Tina Johnson
5
0
11.28
0
11.28
191

---

11
29596
David Titus
Daniel Titus
5
0
10.19
0
10.19
190

---

12
29554
John Baran
Michele Baran
5
0
9.82
0
9.82
189

---

13
29562
Michael Kersey
Ron Chance
5
0
9.57
0
9.57
188

---

14
29646
Gus Chavira
Toby Turner
5
0
9.36
0
9.36
187

---

15
29598
Mike Sedillo
Justin Rathbun
5
0
9.01
0
9.01
186

---

16
29555
Brian Washburn
Jacob Washburn
5
0
8.76
0
8.76
185

---

17
29558
Erik Olson
Kory Grelle
3
0
8.52
0
8.52
184

---

18
30101
Andrew Price
William Hadraba
4
0
8.49
0
8.49
133

---

19
29561
Gerald Rabroker
Jarrett Rabroker
4
0
8.3
0
8.3
182

---

20
29600
Will Curlee
Ty Johnson
3
0
5.9
0
5.9
181

---

21
29565
Mitch Randles
Don Schuetze
3
0
5.78
0
5.78
130

---

22
29623
Austin Talasek
Kyler Roberts
2
0
5.51
0
5.51
179

---

23
29599
Will van der Hoeven
John Koons
2
0
4.08
0
4.08
178

---

24
29595
Marlon Powell
Carlton Bryant
2
0
2.98
0
2.98
177

---

25
29564
William Shelnutt
Michael Smith
1
2.34
2.34
0
2.34
176

---

26
29557
Shannon Goad
Chase Hamessley
1
1.9
1.9
0
1.9
175

---

27
29743
Ean Bowles
John Bowles
0
0
0
0
0
124

---



Earl and Leisha Loggains with a limit weighing 20.18lbs


---



Second Place team of Christopher Noel and Shawn Fischer with a bag weighing 19.39


---



Third Place, David Kipp and Thomas Wells Jr with a limit weighing 19.01lbs


---



Fourth Place and Big Bass winners Justin Williams (not pictured) and Colton Hill with 17.94lbs and Big Bass of 6.71


---



Fifth Place finish for Jimmy Bennet and David Polk, these two came in with 13.79lbs


---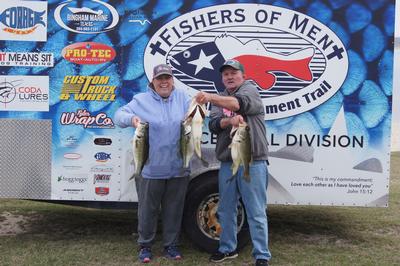 Earl and Leisha Loggains with a limit weighing 20.18lbs

---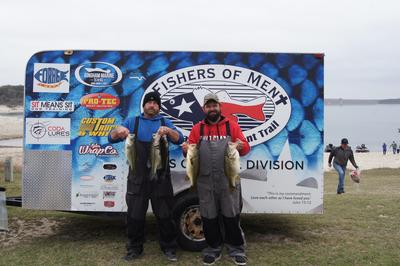 Second Place team of Christopher Noel and Shawn Fischer with a bag weighing 19.39

---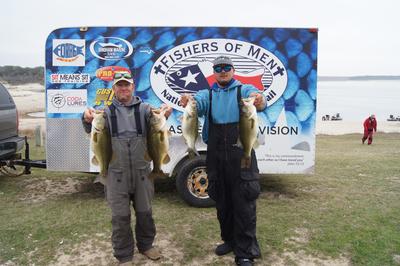 Third Place, David Kipp and Thomas Wells Jr with a limit weighing 19.01lbs

---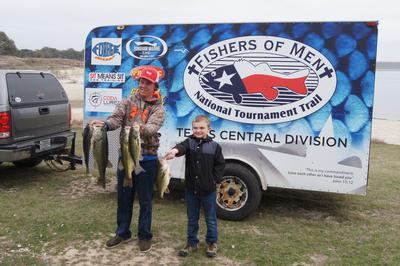 Fourth Place and Big Bass winners Justin Williams (not pictured) and Colton Hill with 17.94lbs and Big Bass of 6.71

---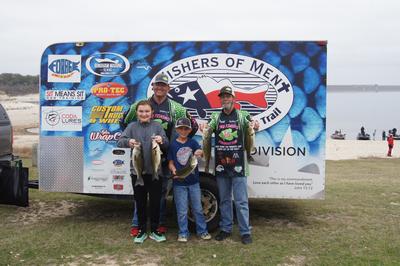 Fifth Place finish for Jimmy Bennet and David Polk, these two came in with 13.79lbs

---